Current Exhibitions: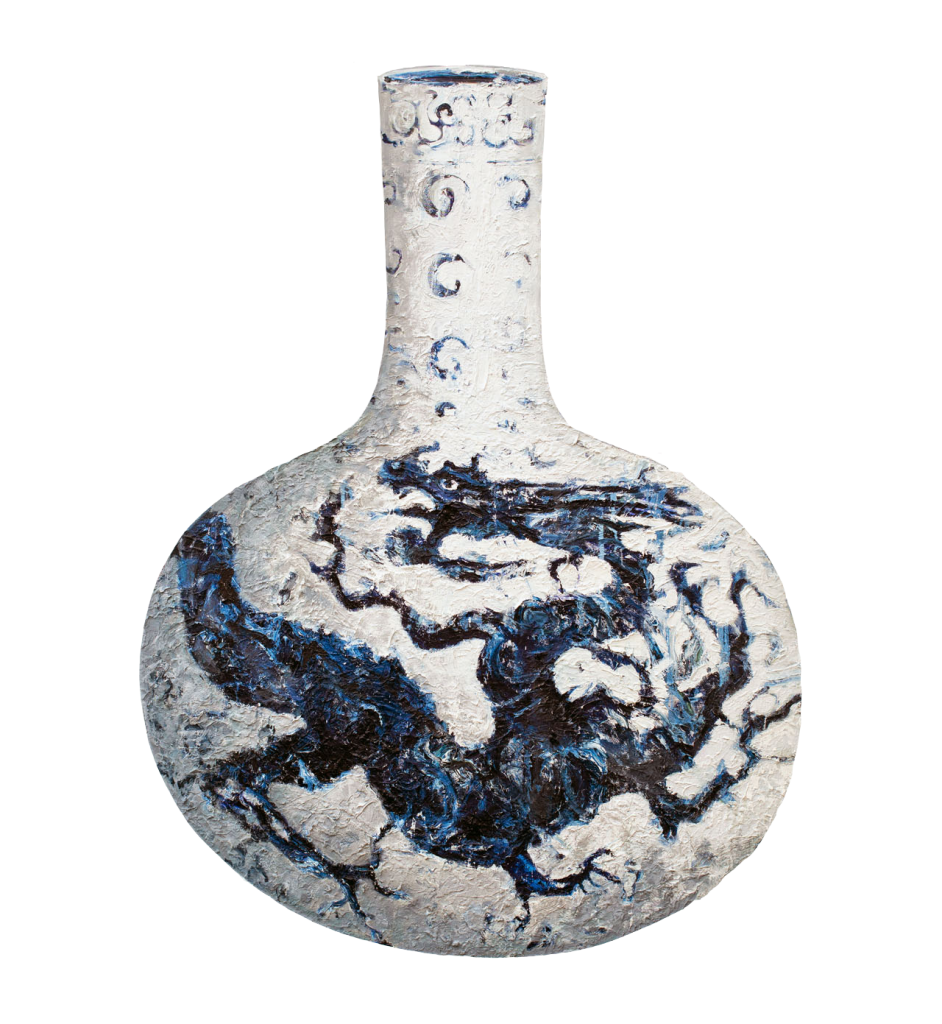 "Night Walks" Part 1
01 – 19 June 2021
"Night Walks" Part 2
02 – 24 July 2021
Andres Thalmann Gallery
Talstrasse 66, 8001 Zurich, Switzerland
www.andresthalmann.com
Extract from the gallery catalog:
Andrew James Ward's vases are beguiling vessels that bring culture and nature together. When he adorns one of his vases with a dragon motif, it is not just a fang-gnashing monster that you see on the shapely vessel. The mythical creature seems to be composed entirely of gnarled branches and storm-driven waves. Through this painting style, Ward is in fact recalling his childhood in Scotland, where as a boy he spent many hours at the seashore, awestruck by the sea's mighty vastness and experiencing storms whose thundering power deeply shaped his psyche.
More peaceful in appearance is his series of eight vases highlighting a traditional chrysanthemum motif. Here, Ward has chosen this classic décor to pay homage to the beauty of Chinese porcelain, depicting thick, symmetrically arranged flower umbels and sinuous arabesques. At the same time as he follows this classical approach, Ward also fits into the long line of western artists who have elevated this motif to the level of a concept, from Claude Monet to Andy Warhol. Again and again, it's the same subject, but one that results in a completely different image each time, depending on the color, the light, the mood. And Ward varies the color combinations from vase to vase, from picture to picture. His chrysanthemum vases are a dialogue conducted in oil between the two worlds of Europe and Asia.
Ward paints his chrysanthemum vases in festive red and gold. Against a bright blue background, he sets yellow-orange flowers that sparkle like the sun. In the image Merope, he combines a serious, autumnal violet with a fresh springtime green. In Taygeta, he paints turquoise blue flowers in a turbulent network of lines reminiscent of Keith Haring. When giving names to his images, Ward calls upon appellations from the starry sky and ancient mythology: Merope and Taygeta are two of the seven Pleiades, companions of Artemis, the Greek goddess of the hunt. The arabesque structures between the thick flower umbels remind you of endlessly meandering paths that you would follow, filled with passion as you stroll onward, or – taking inspiration from the artist – dance through a labyrinth that is teeming with beauty and surprises.
The surface structures of Ward's images are inscribed with a vital rhythm that arises from dance and music. He paints to music and accompanies his finished images with sound collages composed of female voices that speak of the fullness of life, voices that swirl around the vases, sliding over them and into them. But tell us, please: What is inside the vases? Andrew James Ward responds with a laugh. He can't say for sure himself; it's a great mystery, he says. But he can take a guess: "The fullness of emptiness."
Alice Henkes
Explore the exhibition in 3D:
We are pleased to present the recording of your current exhibitions in market-leading virtual reality
---
A selection of past exhibitions and installations:
Andres Thalmann Gallery, Zurich, Switzerland, 2014
"Tamangur"
St. Moritz, Switzerland, 2011
Schoenthal Sculpture Park, Basel, Switzerland, 2005
"Nine views of a rock" (Selection)
Lutz Thalmann Gallery, Zurich, Switzerland
Lutz Thalmann Gallery, Zurich, Switzerland
"White cloud, blue mountain"
Zurich, Switzerland, March 2011
The Hague, Cape Town S.A., Manila, Taiwan, Washington
Studio 1, Zurich, Switzerland
"Seven complete oceans"
Schoenthal Sculpture Park, Basel, Switzerland
Lutz Thalmann Gallery, Zurich, Switzerland