Born 1954. Studied at Duncan of Jordanstone College of Art, Dundee. Andrew James Ward is an internationally known contemporary artist, based in germany.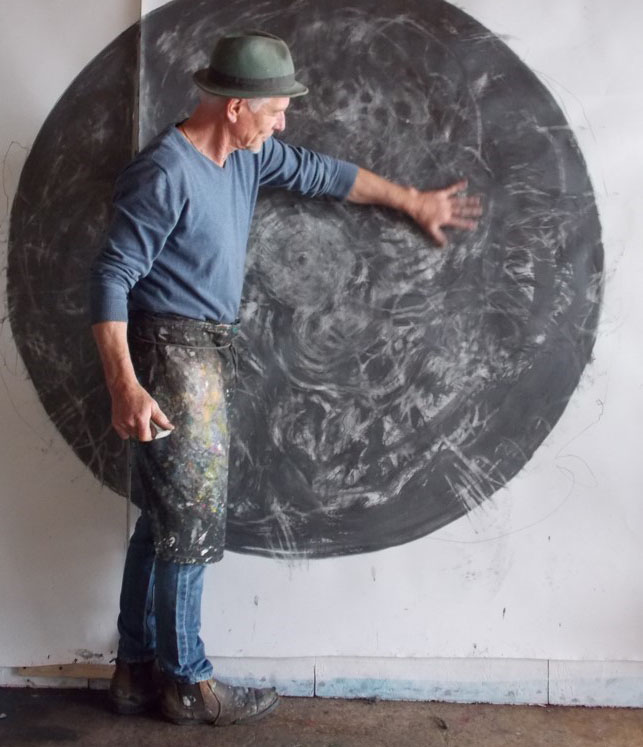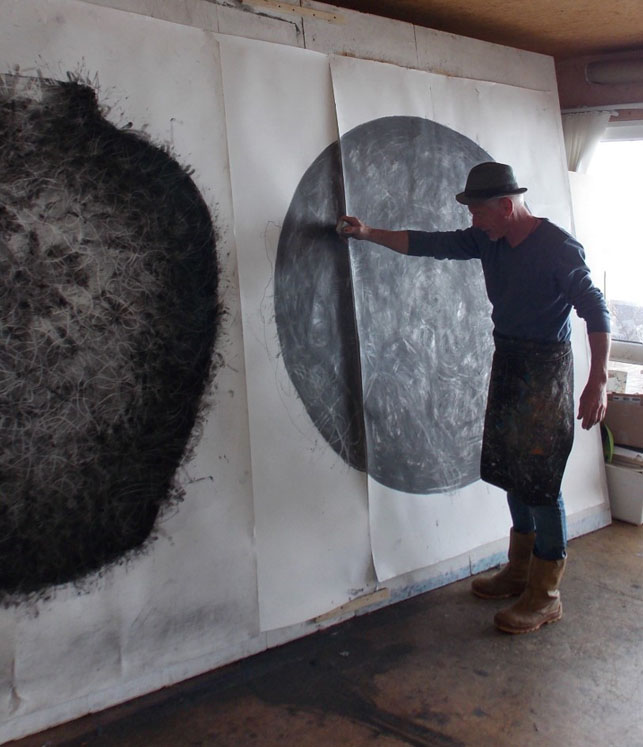 Andrew James Ward was born in Cheadle Hume near Manchester in 1954 and grew up in Scotland. His works can be found in numerous international collections and have been shown at a number of exhibitions around the world, including at the Eden Court Arts Centre in Inverness, at Georgetown University in Washington, at the National Museum in Manila, and several times in the sculpture park of the Schönthal Monastery.
Through the years:
Early times
1978 – 80 Andrew travelled through Sudan, Ethiopia, Uganda and Kenya. Living with and portraying tribal people. This work was sponsored by the British Council and exhibited at the French Cultural Centre, Nairobi.
1982 Andrew went to live in Switzerland where he opened SOS (School of Seeing), a school furthering the creative process – for individual students and teacher-training seminars.
1990 Andrew grounded Labyrinth Publishing. The first book "Nach Aussen – Nach Innen" won the prize of "The most Beautiful Swiss Book, Art Section 1991". A further four publications followed: "Wir bleiben bis ihr geht" (1992), "Crossing" (1994); "Frankie Klingeling and Teenage Blue" (1995)
1994 – 96 Andrew worked in performance under Antonio Neiwiller (Italy) and Gerard Personier (CH). Over the next four years creating and performing his own works.
1996 The performance / music video Vindonisa was made together with Paul Giger (ECM Rec.) Also, Andrew was guest lecturer at Zurich University, exploring art as a medium of communication and learning (Neue Lernkultur).
1997 a documentary film was made of his work (Tamangur), by director Stephen Macmillan. It was short listed for the Grand Prix at the Paris Art film Festival, and won the Grand Prix at Les Diablerets film festival, Switzerland, and Directors award at the Slovenian Film Festival.
1999 Andrew was invited to Taiwan, Korea and the Philippines to work on an art installation on the theme of sex slavery. It was sponsored by, among others, Pro- Helvetia, Arts Council of Switzerland, Alexander Schmidheiny Stiftung, Osram and IFOR. The finished installation is at present on a world tour.
Slide into the 21st century
2007 Completion of the installation Bardic Voyage consisting of 12 large semi-abstract portraits of local bards encased in weather-proof acrylic glass frames and installed on three CalMac ferryboats and terminal buildings. Sponsored by Bord Na Gaidhlig, Caledonian MacBrayne and Tomatin Distillery.
2010 Completion of an installation commissioned by Tomatin Distillery of 9 large portraits (2.5 x 1.6m) to be installed in the distillery.
2011 At present working on an animation film based on 100 paintings of wild salmon that have rapidly been dying out since the introduction of fish farming on the west coast of Scotland.
2012 Andrew and family moved to Wehrheim near Frankfurt in Germany.
2013 Opened SOS, a shop on the high street that serves as his studio, a place for workshops, exhibitions, films shows and informal discussions. Invited to work in local schools on art projects.
2015 LOV installation exhibited in Philadelphia and then in Korea. Finishing "War Stories", a series of seven large paintings exhibited at Artlantis Biennale, Bad Homburg, Germany.
2014 Laboratorial in SOS with two artists from Zurich terminating in exhibition. Work for the exhibition Between the Forest and the Trees in Zurich.
2017 "Hand in Hand" Two year Art Project at the GAG Secondary School in Bad Homburg, by Frankfurt.
2019 Grounding of "Open Space" with Uta Riek. An organisation to further the creative potential of school children and adults.
2020 Studio work for solo exhibition at Andres Thalmann Gallery in Zurich.